So, you want to invest in Mutual Funds? Good for you! But are you sure you're making the right choices? There are a lot of mistakes that you can avoid when investing in mutual funds. Mutual fund investments are an excellent tool for investors to build a strong investment portfolio and achieve their various financial goals.
Today, we will see the top eight mistakes people make when investing in mutual funds.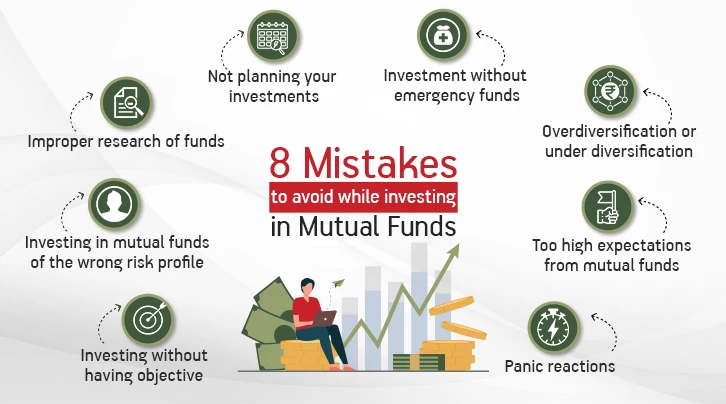 Investing without having objective
Before deciding over your investment portfolio, you should specify your financial objective, which is associated with the time period of the investments. The objective can be saving taxes, buying a home after a specified period, buying a car, child education, etc. Short, medium or long term investments help determine the type of investment you should be investing in.

For example, if you aim to accumulate money for your retirement which is 20years away, you may consider investing in equity funds through SIPs. On the other hand, in case you wish to save for buying a car in the next two years then investing in debt funds would be more suitable for you.
Investing in mutual funds of the wrong risk profile
Mutual fund investments need to be made based on your risk profile, which can be categorized as aggressive, moderate, and conservative. However, if you are not aware of the risk you can take, you may end up investing in an unsuitable mutual fund scheme. Hence, it is imperative to always assess your risk appetite before investing in a suitable scheme to achieve your investment objectives.
Improper research of funds
Researching about anything is getting simpler because of the easy accessibility of the internet. But, it has become very important to distill these pieces of information and use them in a way that best serves us.

Always use authenticated resources to study and research about the funds you are investing in. To make informed and suitable decisions, you must know about fund type, exit load, historical returns, asset size, expense ratio, etc.
Not planning your investments
Having a plan makes things a lot easier. One of the main mistakes people make when investing in mutual funds is investing without a plan or goal. Investing in mutual funds with a plan helps stay focused on the goal because it is easy to get carried away with market events and noise.
Investment without emergency funds
Many investors invest their whole savings, which is the first mistake investors can make. Whenever individuals need funds for emergencies, they need to burn their pockets to overcome these situations. In some cases, investors must break their mutual fund investment tagged to a different goal during emergencies. In these scenarios, they might not reach their goals on time or not reach them at all. Hence, building an emergency fund is the first thing any investor needs to take care of.
Overdiversification or under diversification
Another mistake that mutual fund investors should not make is over diversifying or not diversifying properly. Investing in different mutual funds that invest in the same underlying securities will only lead to higher expense ratios and doesn't diversify the portfolio. On the other hand, investing only in one asset class such as equities may impact portfolio returns when the market is down.
Too high expectations from mutual funds
First-time investors usually look at getting the highest return on their investment. They expect a top-performing fund to continue with the trend. However, it is not a good idea to have such high expectations from a mutual fund.

Mutual funds are not a get rich quick scheme. However, mutual funds can help you to create long term financial wealth for yourself and your family if you understand how to invest in them right.

It is necessary to have a reasonable expected return to achieve financial goals.
Panic reactions
In the case of the market crash, investors mistake reacting panicky and opt to exit. Due to fear of losing the principal amount, they may sell their mutual fund scheme before reaching their goals. The investor may avoid the mistake, be relaxed at market corrections, and monitor the funds' performance for a while before making any decision.
Conclusion
Investing in a mutual fund is easy, and there is a mutual fund for everyone. Even though mutual funds are a good choice for the long term, there have been examples of people making bad investment choices. The best way to avoid this is to take your time and not rush into an investment you are unsure about, or any decision at all.
We hope this article will enable you to make an informed decision before investing in Mutual Funds and also alert you of possible mistakes that you can avoid while investing in it.
Mutual Fund investments are subject to market risks, read all scheme related documents carefully.